And just like that, we're on the final day of November. New spirit releases are still coming in, just in time for the holidays. American whiskeys are the focus here—most bottled at cask strength.
Additionally, Douglas Laing & Co. has a couple of whiskies for you to check out. With Christmas on the horizon, both feature holiday images with each mascot on its respective label. But instead of just slapping a holiday label on an existing product, the brand has created unique, limited-edition versions of its blended malt whiskies.
And finally, because we can't live on whiskey alone, we've got a vintage cognac to tell you about—a perfect nightcap from HINE to have next to the stockings hung by the chimney with care.
BARRELL CRAFT SPIRITS
Independent bottler, Barrell Craft Spirits, has introduced a new line of sourced cask strength, limited edition spirits. These are all blended and bottled at the bottler's Louisville, Kentucky home base. This series complements the bottler's batch series spirit releases. Available beginning December 2018. Suggested retail prices TBA.
Company Founder Joe Beatrice says, "After three years in the works, I am thrilled to release our Barrell Craft Spirits line. Our intent was to blend a set of spirits—each defined by perfect and absolute balance, with deep flavor layering. The barrels harvested for these special releases were individually selected for their refined properties and unique flavor profile. We bottled at cask strength so that you can experience the depth of character and their extraordinary flavors."
Barrell Craft Spirits' latest releases / Photo Credit: Barrell Craft Spirits
Made from a blend of 15-year-old straight bourbon whiskeys distilled and aged in Tennessee, Kentucky, and Indiana. It is bottled in Kentucky at a cask strength of 105.1 proof.
Distilled and aged in Indiana, this 25-year-old American whiskey finished its maturation in sercial Madeira casks. Bottled at a cask strength of 111.2 proof.
Made from a blend of vintage rums aged between 13-21 years sourced from Barbados, Guyana and Jamaica. It is bottled at a cask strength of 124.2 proof.
This bottled in bond release is from the Woodford Reserve Distillery Series, a one of a kind series of whiskeys released by the brand and crafted by master distiller Chris Morris. This Kentucky straight bourbon follows the rules for a bottled in bond release: produced by one distiller, at one distillery, in one six-month distillery season, aged for at least four years in a federally bonded warehouse, sold at 100 proof. Announced in November 2018, this will be available at the distillery and at select Kentucky retailers. Sold in 375ml sized bottles. SRP $49.99
Woodford Reserve Bottled In Bond / Photo Credit: Woodford Reserve
This barrel strength straight rye whiskey from Templeton Rye is bottled without chill filtration at 57.2% ABV. As a straight whiskey, this bottling does not have the added "proprietary formula" as other Templeton Rye bottles have. This sourced rye whiskey bears no age statement and is a limited edition addition for the brand announced in late November 2018. SRP $59.99.
Templeton Rye Barrel Strength Straight Rye Whiskey / Photo Credit: Templeton Rye
This whiskey marks the second release from Peerless Whiskey in over 100 years (the first being the Barrel Proof Straight Rye, aged 2 years). This whiskey uses a sweet mash and is non chill-filtered. It aged for 3 years in new, charred American oak and is bottled at a cask strength of 54.55% ABV. Available beginning in 2019. SRP $125
Peerless 3 Year Straight Rye Whiskey / Photo Credit: Peerless Whiskey
DOUGLAS LAING & CO. HOLIDAY EDITION BOTTLINGS
These blended malt whiskies are available in limited quantities on the bottler's website or at select retailers, primarily in the UK.
This holiday edition from Douglas Laing features the brand's beloved Fox Terrier on its label donning a red nose. This blended malt features single malt whiskies from Speyside which have aged exclusively in sherry casks for 12 years. This limited edition whisky is bottled without chill-filtration or added color at 48% ABV. Available beginning December 2018. SRP £65.
Scallywag Red Nosed Reindeer Edition #3 / Photo Credit: Douglas Laing
Big Peat Christmas 2018 is the eighth annual holiday release for independent bottler Douglas Laing & Co. This blended malt is made up from seven single malt whiskies from Islay distilleries including Ardbeg, Bowmore, Caol Ila and Port Ellen. It is bottled without chill-filtration or added color at a cask strength of 53.9% ABV. SRP £55.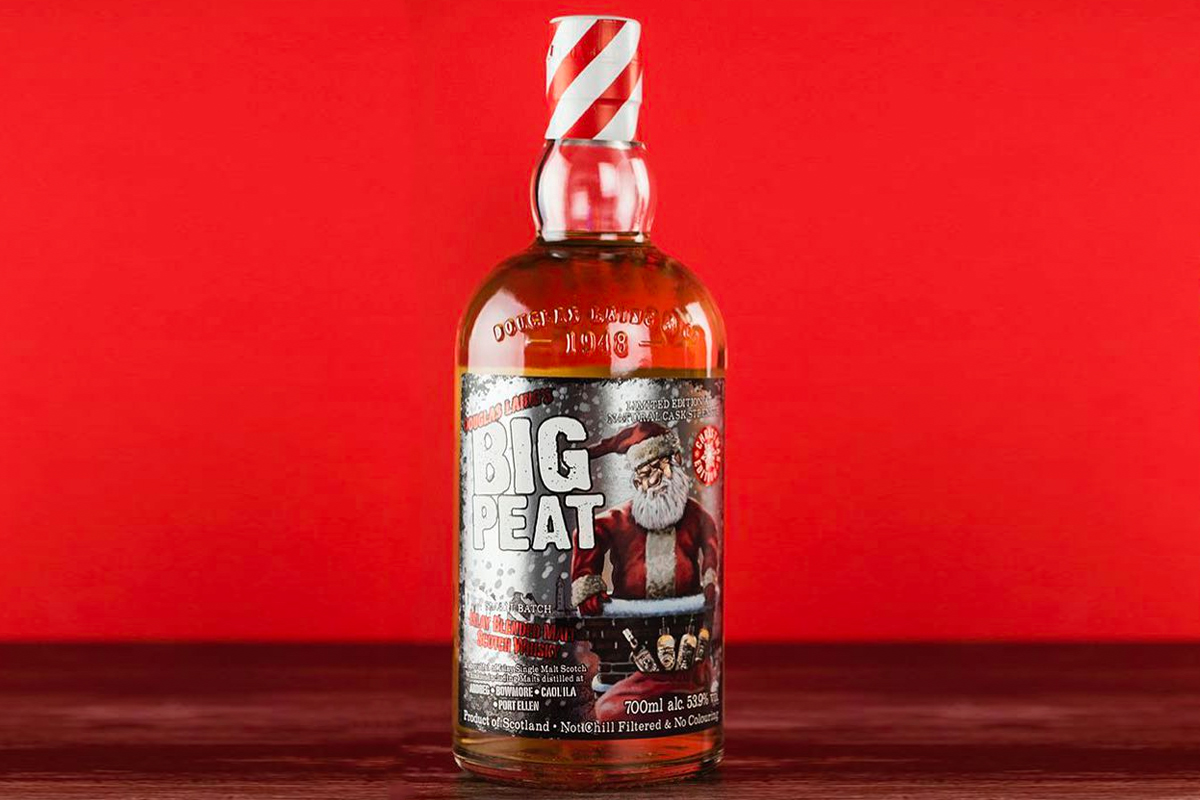 Big Peat Christmas 2018 / Photo Credit: Douglas Laing
HINE Bonneuil 2008 is the third release in the Bonneuil series, a single vintage, single vineyard cognac from HINE's own estate in Grande Champagne. This release follows the 2005 and 2006 vintage—the 2007 vintage was deemed "insufficiently expressive". The 2008 vintage yielded just 16 casks (7,200 bottles) after aging in oak for a decade. The bottle bears the bottling date (19 July 2018), cask number and bottle number on each label. This release is available in the US in November 2018. SRP $139.99.
HINE Bonneuil collection / Photo Credit: HINE Cognac
---
With Distiller, you'll always know what's in the bottle before you spend a cent. Rate, Review and Discover spirits! Head on over to Distiller, or download the app for iOS and Android today!